Today, society is becoming more connected and more reliant on the internet. So, business ties are increasingly being built online rather than in a boardroom. Nowadays, the majority of the brands have at least one online presence, and most have several. Therefore, social media tools for startups are a must to manage your online presence efficiently.
Undoubtedly, social media marketing continues to be one of the most cost-effective online marketing strategies. Unlike paid advertising, it's possible to grow your business visibility and building brand awareness without directly paying for it.
How Social Media Tools are Necessary for Startups
Social media marketing revolves around managing your online interactions and content channelization across different social media platforms. It is not limited to post updates on your social media platforms only. Instead, it holds different practices and strategies to engage with your audience as well. As a result, it can widen your reach and optimize your adaptability to regular updates.
Also, proper management lets your audiences see the relevant content from your brand consistently, as your audience prefers interacting and engaging with you. It will also ensure the effective delivery of your advertising messages. In addition, social media marketing offers better lead generations and conversions at comparatively lesser costs.
So, to manage your business even from the start, it is extremely important to accept and adapt to the demand of having a social media presence. For that, you will need social media management tools to manage all your social media profiles.
We have researched and listed the 14 best social media tools for startups that can effectively manage their social media profiles.
14 Must-Have Social Media Tools for Startups
Social media management tools are a must if you are planning social media marketing for your business. Fortunately, several third-party tools can enhance certain features of these social platforms. It can make social media marketing a more lucrative and intuitive experience.
These tools can help your online business in multiple ways. They can streamline your workflows and help you save time by allowing you to schedule your content. These management tools even ensure that your content reaches the right audience at the right time. Here are 14 social media management tools designed to help marketers advertise their brands more effectively.
Buffer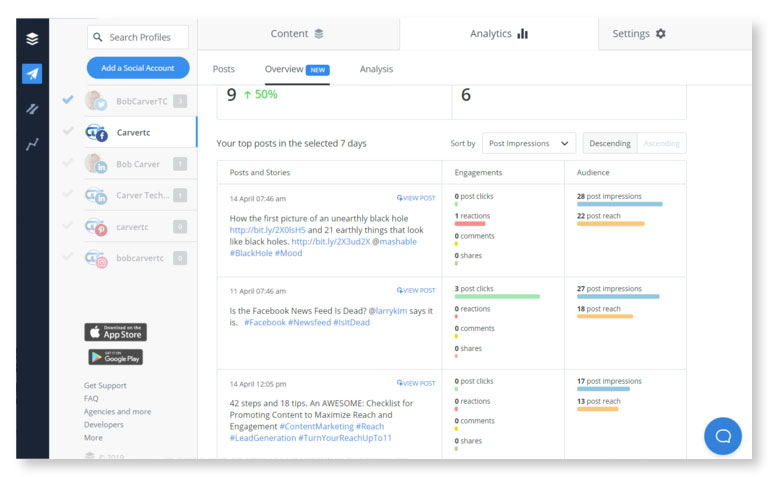 Buffer is one of the most recognized social media management tools in the industry. It is a social media tool that has helped many businesses to reach the right market. Many brands, agencies, and influencers claim that they enjoyed a boost in engagement on their social media pages after using Buffer.
Buffer offers multiple social media management services like publishing, analytics, and engagement. The customers who have used Buffer love it for its clean and intuitive results. In addition, you can get great assistance from publishing, engaging, team collaboration, and analytics during social media campaigns.
For social media marketers, Buffer alleviates and automates the task of updating, connecting, and converting potential customers on different social channels.
Hootsuite
Hootsuite provides a one-stop solution to all your social media needs, constituting one reason for making it popular among businesses. It is estimated that roughly 18 million people use it.
This one-stop social media management tool enables a person to run ads, create content and schedule it on different social media channels. In addition to these, it is also possible to measure the ROI of the social media campaigns using Hootsuite.
Hootsuite's ability to monitor multiple accounts makes bulk social media postings and scheduling possible. These are some of the reasons why 800 out of 1000 Fortune companies prefer using it.
SocialBu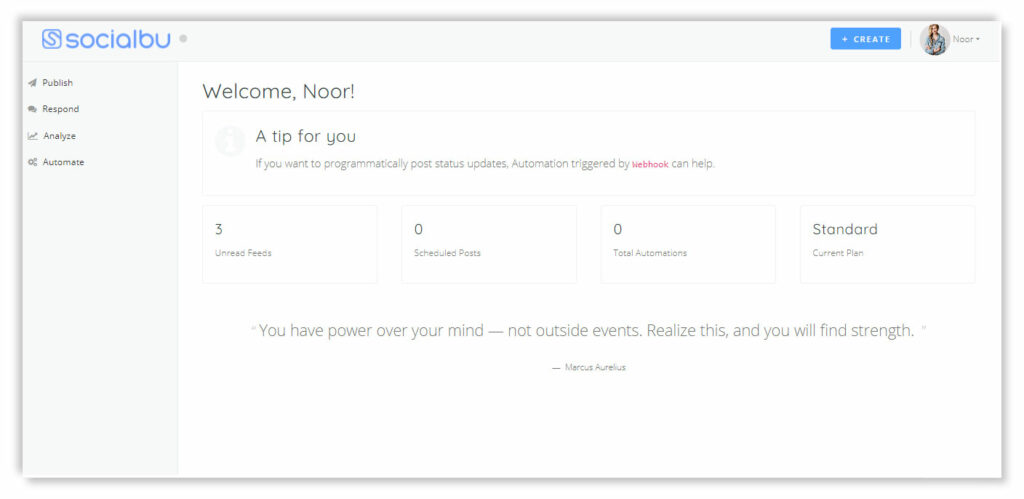 Are you spending too much of your time managing social media? Then believe me! It is the perfect tool that can help you manage and automate your social media efficiently and save time. SocialBu is an advanced social media app – highly popular among its users mainly because of three unique features. Therefore, making SocialBu one of the best social media tools for startups.
No limit to how many social media profiles you manage. SocialBu makes it very easy to schedule and publish content for multiple social media accounts.
It makes marketers' interaction with the audience extremely easy and accessible. How? Well SocialBu, provides one unified interface through which you can monitor all your social media accounts. From there, you can respond to messages, comments, and posts from your followers, ultimately boosting customer engagement.
SocialBu automates your entire social media, i.e., Facebook, Twitter, and Instagram. With the help of few simple automation rules, all your activity becomes better automated, less time draining, and more effective.
Sprout Social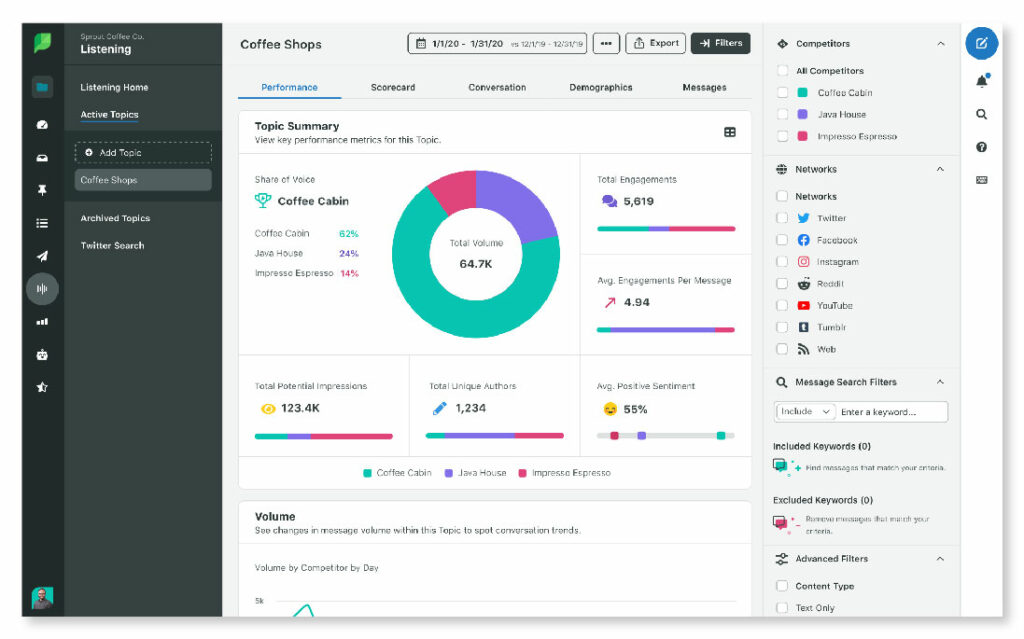 Sprout Social is an all-in-one social media marketing tool to help managers better control their efforts. It features multi-level access, allowing directorial control and access from lower-level team members to better coordinate and delegate tasks. In addition, it comes with full post scheduling capabilities, a detailed analytics platform, and even a social listening platform. All these features to better understand how your demographics use your platforms of choice. If you are looking for social media tools for startups, Sprout Social can be the one.
One of the best Social Media Tools for ensuring Customer Relationship Management (CRM), Sprout Social, effectively understands your audiences.
TweetDeck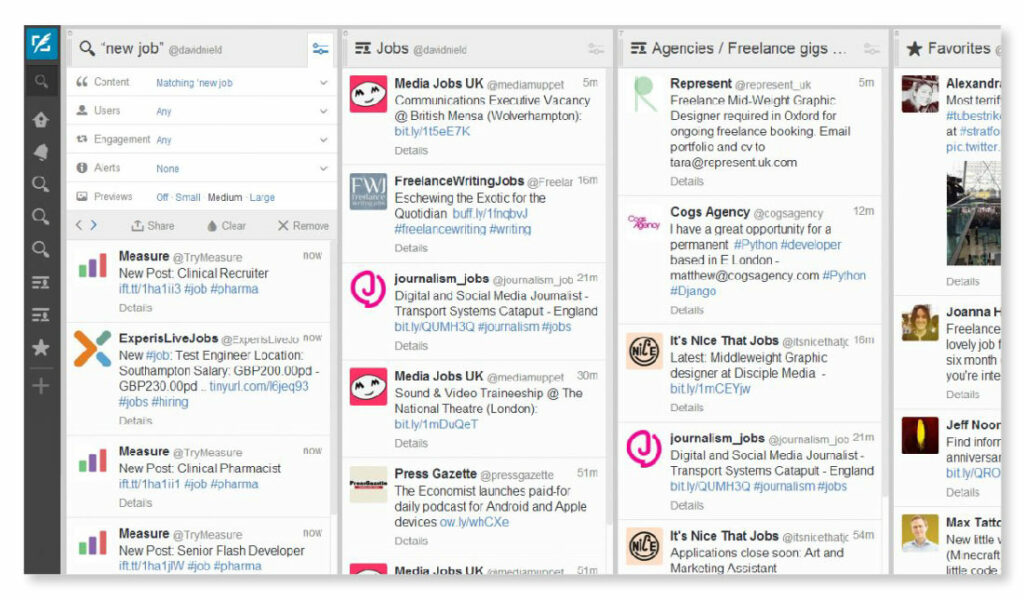 Do most of your traffic depend on Twitter posts? If so, then TweetDeck is the solution you are looking for. Think of it as a control hub for Twitter admins with diverse functionalities. The possibility is to monitor real-time engagement and unveil the business opportunities Twitter has to offer.
TweetDeck acts as a Twitter-exclusive CMS. It helps you prepare custom feeds, target specific users, monitor trends, and respond to messages from the same dashboard. You can also connect it with platforms other than Twitter and ensure that all of your information will be gathered in a single hub. In addition, TweetDeck is a completely free tool. Regardless of that, you're interested in managing a single profile or looking at some of the system's advanced business functionalities.
Sendible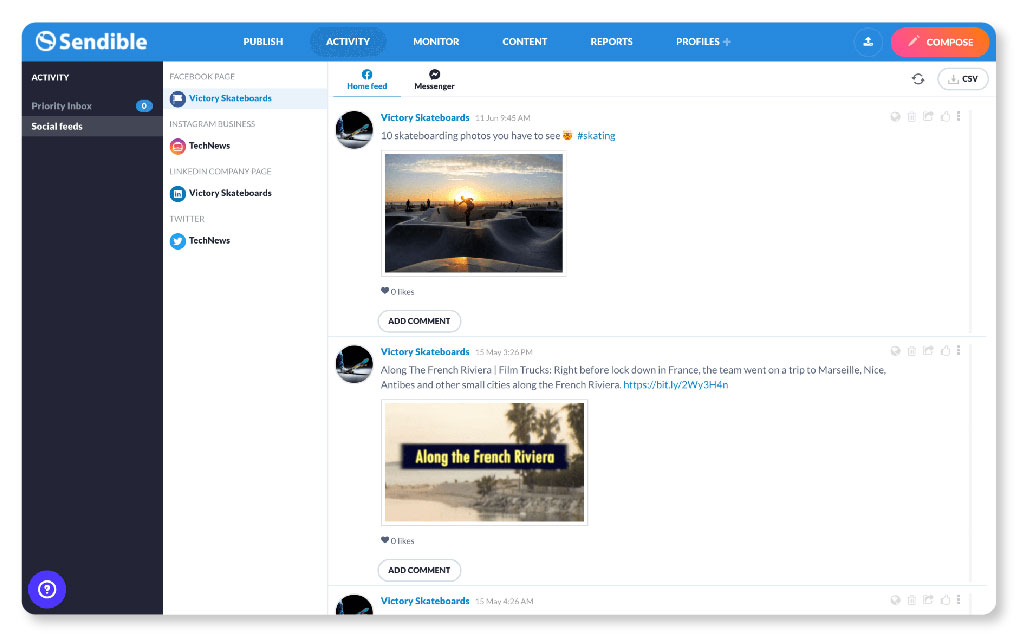 Sendible is best known for its diverse and creative approach to social media management, as it doesn't only manage publishing and deliverability. It also automates many cumbersome social media processes. It will be a faithful business assistant for agencies that need a unified inbox for multiple brands and a silent backdoor engine that monitors how their profiles are progressing to suggest better content for their audience.
Sendible also saves you much time in repetitive tasks by allowing automation. Other amazing qualities that make it popular are royalty-free image search, Canva graphic editor, and YouTube search.
Meet Edger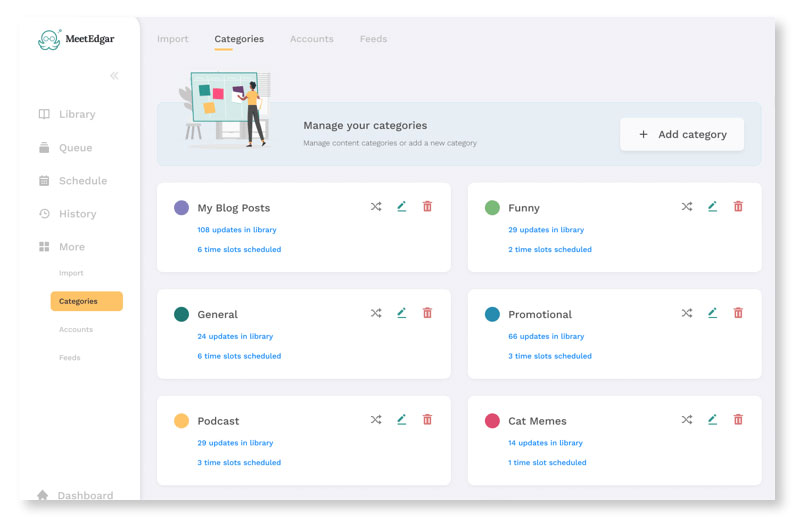 Content scheduling is one of the most popular tools on this list. While marketing teams may be relieved to schedule their posts weeks in advance, MeetEdgar adds an extra step.
Instead of using one-time updates, the app automatically reshares certain posts over time, eliminating the need for long lists of posts. In addition, MeetEdgar boasts direct video uploads and an unlimited library of updates and allows users to choose which posts are and aren't reposted over time.
IFTTT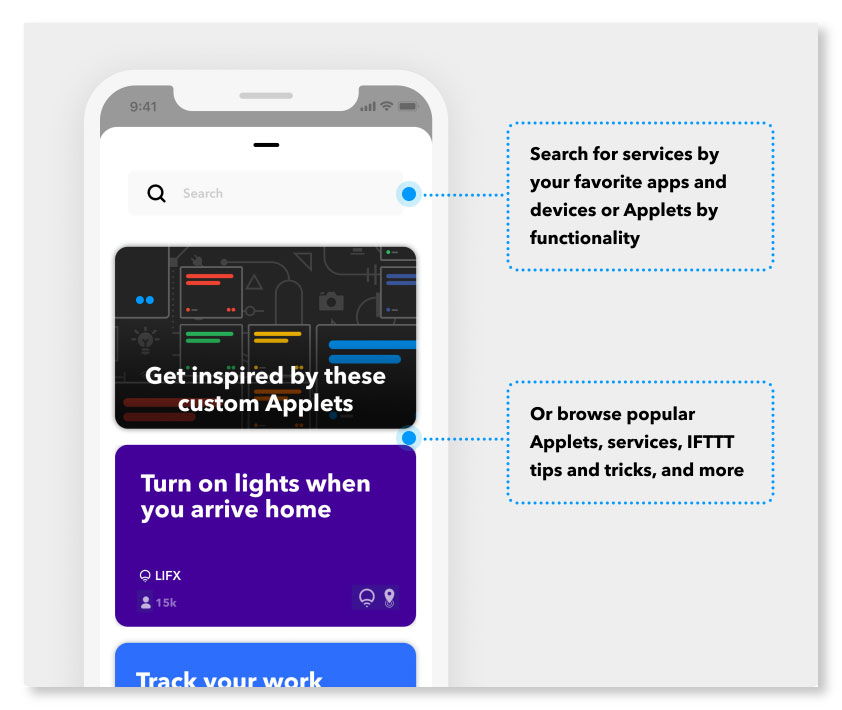 What if you could share an image on Instagram, have that image stored instantly on your Dropbox account, and shared with users via email in a single, simple process? With a free IFTTT  (an acronym that stands for "if this, then that.") account, you can pull data and turn on applets for more than 500 social services, among which Facebook, Twitter, Instagram, HUE, Dropbox, Spotify, stock triggers, marketplaces, and more.
IFTTT is a one-of-a-kind solution for unified posting on different social media platforms and establishing connections between apps even without coding experience.
What is even better is that IFTTT lets you build your commands and get the real Editor's choice experience, as it combines the connectivity power of Zapier, the attractiveness of social networks, and customer control of leading CRM and help desk providers. Using it, you can install buttons and DO-triggers on literally any platform or website and let users connect with your content regardless of the app they're using.
Canva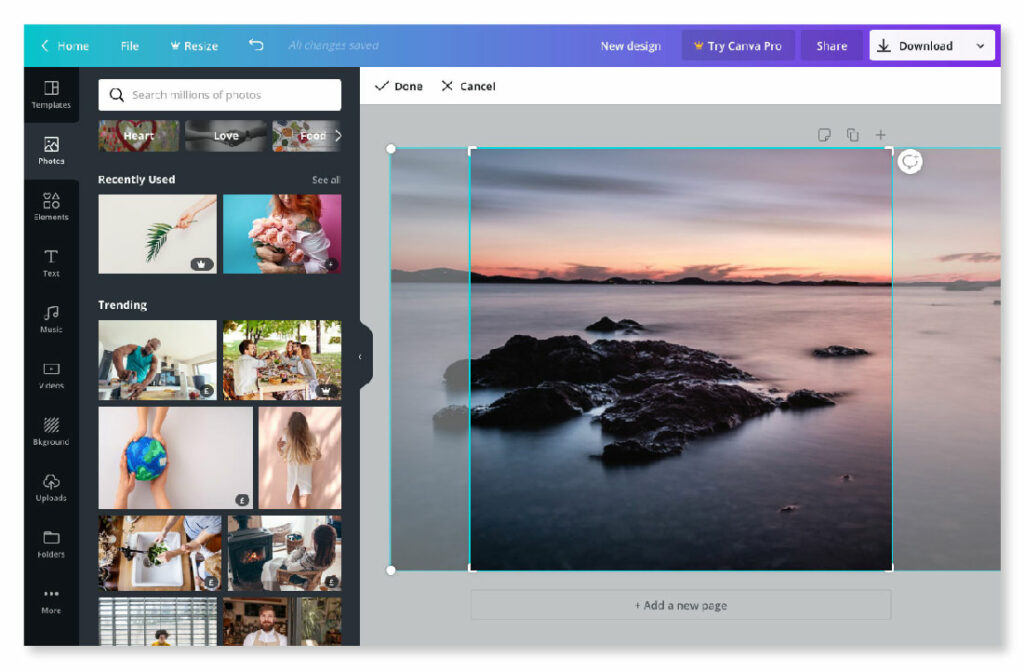 Designing elegant social media posts is no easy task. In the old days, nothing short of super "Adobe Photoshop" skills were required, which was a nuance in itself since you had to pay hefty fees to graphic designers. But it is different now.
With Canva, you can access designs from a wide range of templates. It includes infographics, cover photos, posters, social media posts, logos, and advertisement designs. All of which can be built using simple drag and drop functionality, a blessing indeed. In addition, for those of you who are nostalgic with Photoshop but concerned with how time-consuming it can be, Canva offers an option to use custom dimensions replicating the good old canvas.
Moreover, they also have a paid plan which gives you access to a plethora of free photos & illustrations, custom brand color palettes, and the ability to resize, among others.
Unsplash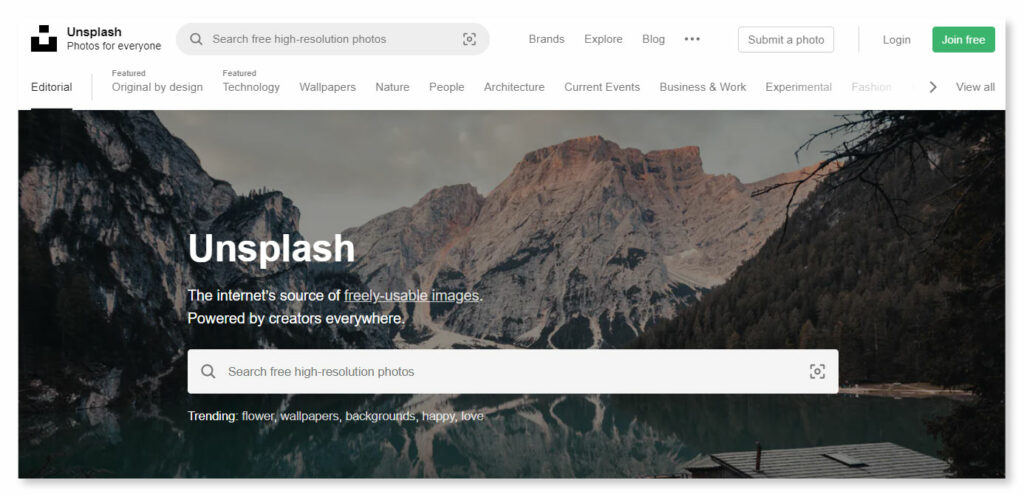 Having high-quality content and images is crucial; after all, nothing drives away a follower like poor quality. Unsplash is a database of gorgeous, high-resolution, watermark-free images that are free for use. You can use the search engine or browse collections like "Still Life" or "Photos for Parent Bloggers."
Once you find an image you want to use, you can either download it or save it in your collection for future use. Unsplash allows anyone to have high-quality, high-resolution images. Unsplash can be great assistance to collect high-quality images for your social media platforms.
Buzzsumo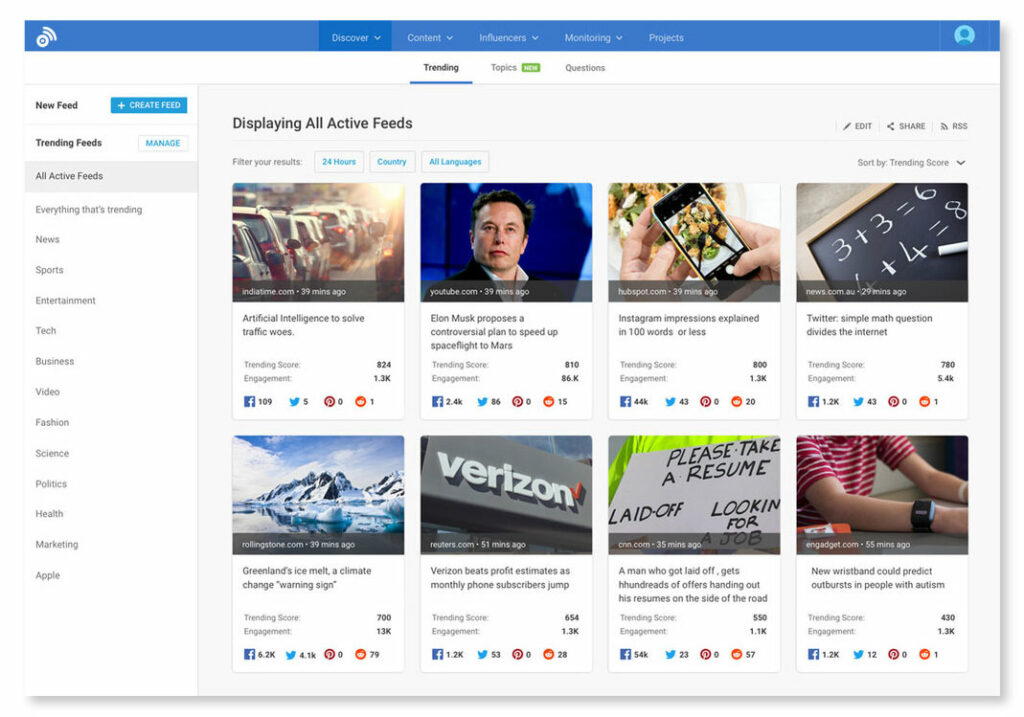 We know that social media is attracting so much traffic from marketing teams and consumers alike. So, it would be helpful for marketers to see how much attention certain types of topics content are getting—all that without wading through piles of data. BuzzSumo's data analytics allows its users to do that with minimal effort.
BuzzSumo's search bar takes in search words and returns a list of relevant links on the internet and social media. With this much easily accessible information, marketers can quickly determine the popularity of different types of content. Also, they can easily adapt their marketing strategies.
Oktopost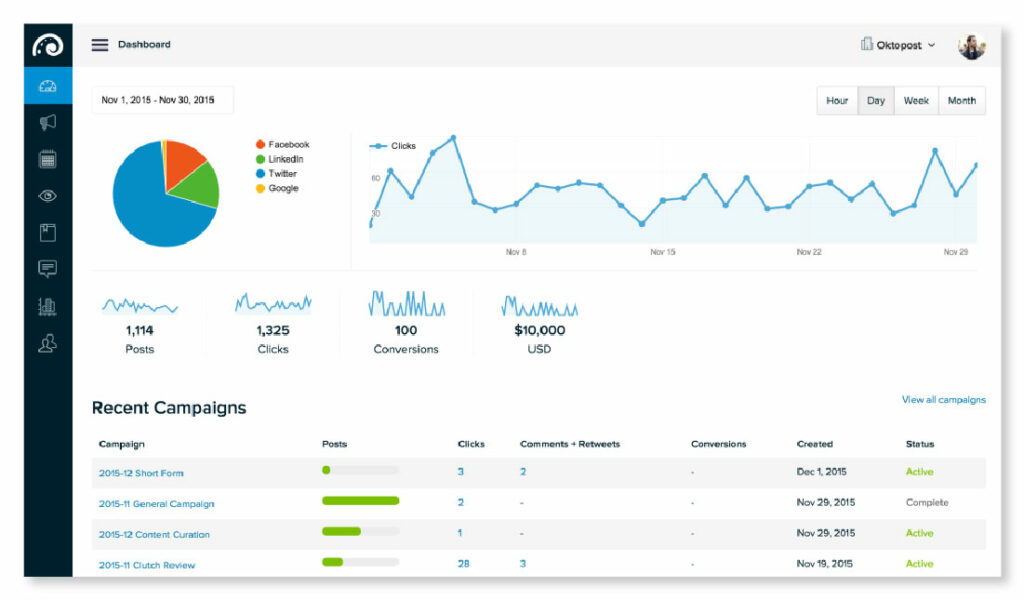 As one of the top B2B Social Media Management Tools, Oktopost is a boon for B2B advertisers. Those who need to create conversion-driven leads through different social media channels. It also helps advertisers measure the performance of social endeavors.
It is quite useful in social media management, employee advocacy, and the promotion of social campaigns. So, B2B marketers can find a wide range of social media tools for different types of marketing and advertising through Oktopost.
Tailwind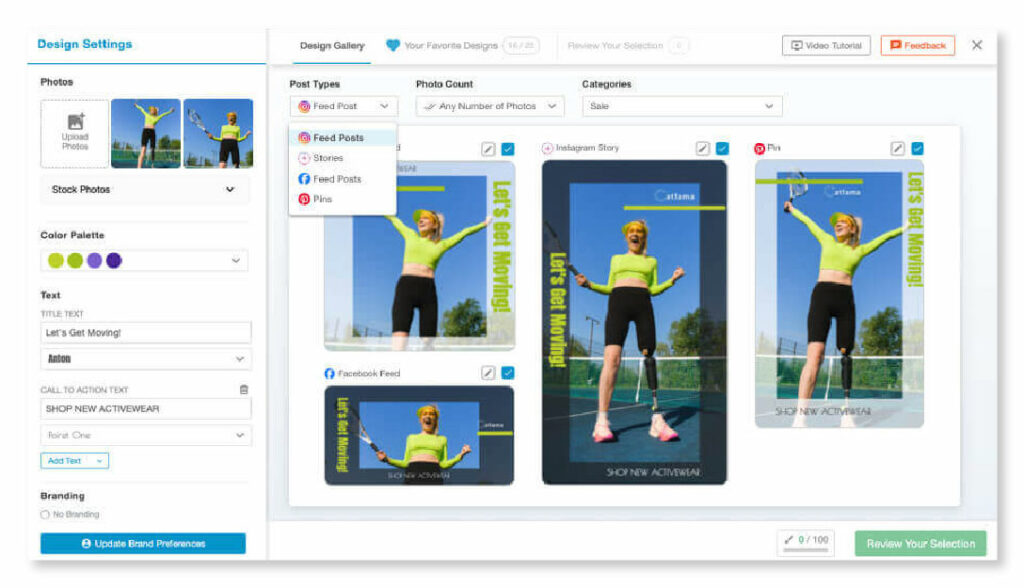 Tailwind is one of the best-rated Social Media Management Tools for Pinterest and Instagram marketing and advertising campaigns.
This tool helps you to plan your social media posts, analyze discussions, and measure results. It also gives suggestions for enhancing your Pinterest and Instagram marketing strategies.
Its extraordinary features include a scope of highlights particular to these visual social media platforms. You can adeptly utilize Tailwind for Pinterest Content Advancement and Instagram UGC Content Management.
CoSchedule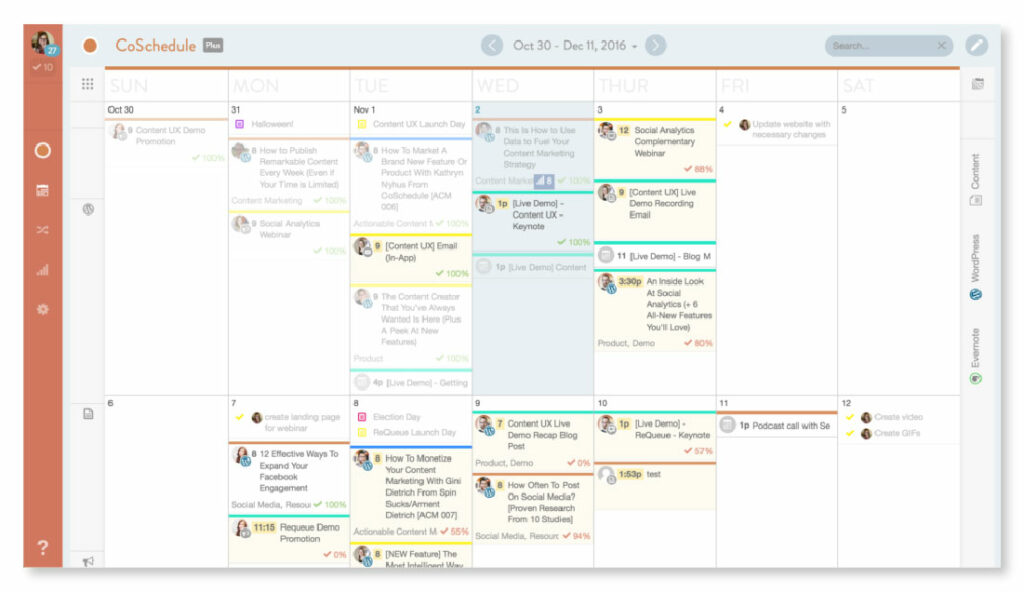 CoSchedule emphasizes efficiency for marketing teams and individuals alike. Integrating with company blogs via WordPress allows brands to publish and push content to social media simultaneously.
Additionally, CoSchedule provides a comprehensive "Top Content Report," which documents social shares and engagement. It is a fantastic feature for content creators looking to figure out which pieces resonate most with readers.
Unlike other social media scheduling tools, CoSchedule primarily focuses on content versus solely social performance. Features such as the "ReQueue" bucket allow teams to recycle and schedule their best messages automatically. It results in more fresh content in your brand's feed faster.
Final Words
Social media management tools are present in a wide range based on their efficiency and functionality. What suits you best depends on your social media goals and needs. I hope I've managed to mention at least one tool that might suit your needs.
Also, luckily, all mentioned above tools have free plans. So, you can experiment and find the platform that works best for your social media marketing strategy. You can't go wrong moving onto a social media management tool. It will surely save you time, grow your social presence, and possibly even make you money!