In the age of Visual Media, there is only one true King: Instagram.
Most brands out there have come to terms with this fact, making competition on this Platform intense.
So, what's the way out?
Automation
Putting in less manual effort and time into menial tasks on Social Media will allow you to focus on your strategic goals, campaigns, and objectives for the brand's long-term sustainability.
There are many digital tools online that can help you in this quest to automate your processes, but here's our list of the best Instagram Automation tools in 2020:
A Multi-functional Tool with Automation, Publishing, Scheduling, and related growth features, SocialBu supports all the major social media platforms. (Instagram, LinkedIn, Facebook, and Twitter)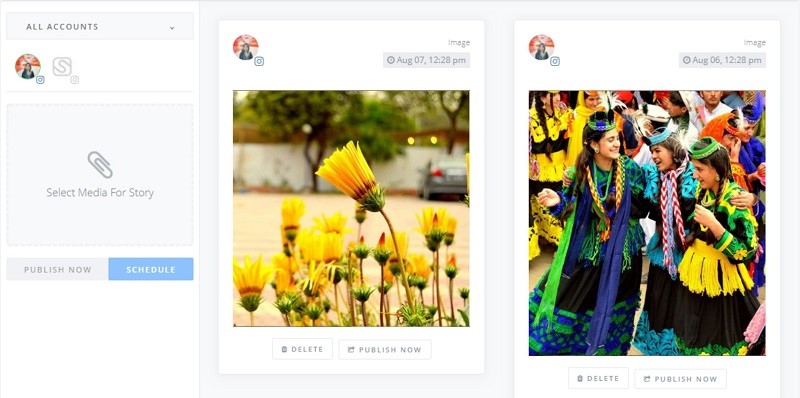 Posts & Stories Scheduling for Instagram enables direct drafting and posting of content for your Instagram Feed.
Auto-Replies for Comments and Direct Messages will allow you to save hours spent responding to repetitive and straightforward queries, boosting your response rates.
Instagram Analytics & Hashtag Tracking provides users detailed statistics on the performance of content, while any hashtags can be chosen to see where conversations have originated and spread.
RSS Feed Auto-Posting takes content from any selected Feed and posts it to your Feed or Stories at set intervals or instantly, without any required human interaction, and thus provides a steady and automated stream of content.
2. Social Captain
Personal Instagram Assistant claiming to harness the Power of AI, Social Captain 'automagically' gets you 150 times the results of human interaction.

Source: Suevu
Disclaimer: Use of Automation Tools that use bots to follow and interact with users might result in a ban on Instagram.
Customized Audience Targeting tailored according to usernames, hashtags, or locations. Going a step further, Social Captain can also target based on language patterns and niche preferences.
Real-Time Reports that measure campaign performance and display an overview of all automations performed by Social Captain in the Dashboard.
SmartGrowth is the Artificial intelligence-powered boosting module that boasts improvement after learning from each execution.
3. Gramista
One of the more creative and innovative products on this list, Gramista focuses on automating human interaction by performing community engagement independently.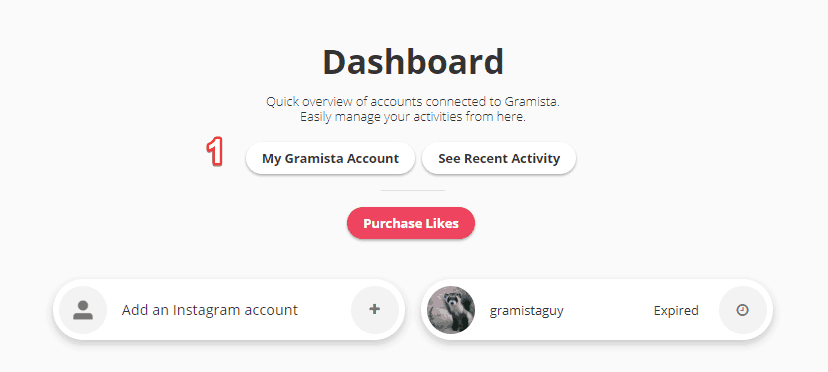 Source: Gramista's Dashboard
Disclaimer: Use of Automation Tools that use bots to follow and interact with users might result in a ban on Instagram
Custom Growth Campaigns work by liking and following several users targeted under detailed demographics so that they follow you back and provide additional engagement.
Interaction Reports provide a record of how each targeted account has been approached by this automated tool and how each of those users has responded.
Artificial Intelligence comes into play for subverting Instagram's detection tools that ban bots. With the Smart Mode that enables this, the tool will randomly run scripts and interactions but keep records of these for your viewing.
4. DashThis
An automated marketing reporting tool that can help save hours in work and analysis, DashThis allows the creation and customization of dashboards, reports, and widgets.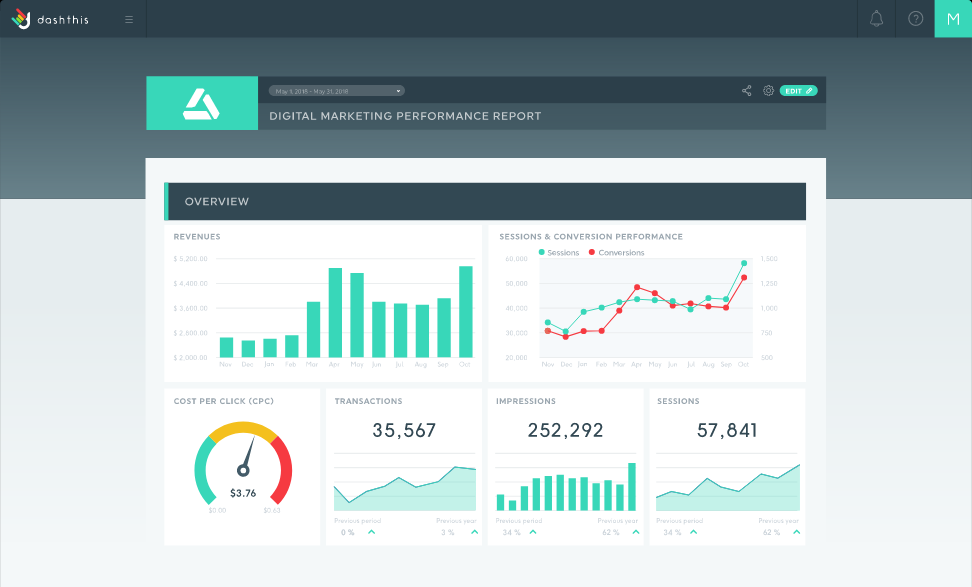 Source: Dashthis
Over 34 Integrations that include Instagram Ads, KeyMetric, and Perfect Audience, assuring your Analytics optimized and DashThis gets you geared to automatically target the optimal audiences.
Customizable Dashboard allows brand managers to get all their common stats and KPI's from Instagram (plus all supported platforms) in one place, using drag-and-drop widgets for ease of use.
Multiple Metrics and Dimensions are available, which include Engagement Rate, Post Type, Shares, Post Text, and Tags. These are used for displaying, filtering, and classifying content.
Automate your Report distribution for digital marketing with automatic report email dispatches, which will grant your clients real-time access to their dashboards.
5. Iconosquare
Offering exclusive statistics for the Platform, Iconosquare sets itself apart by leveraging its Instagram Partnership to the max with advanced filtering and informational tools.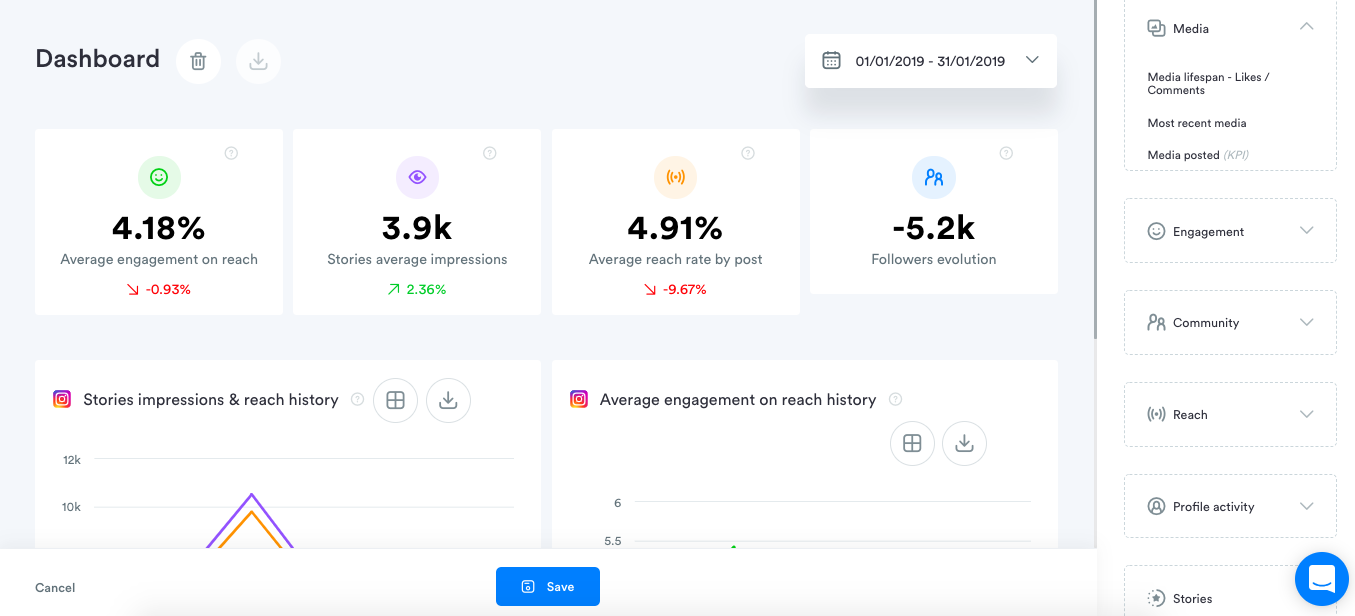 Source: Iconosquare's dashboard
Customizable Preset Widgets with drag & drop functionalities enable individual curation of each selected Platform and account's vital statistics and filtering rules. Growth, Engagement, and Profile Activity Widgets are just a few of such examples.
Advanced Tracking Options display details on uncommonly found statistics, such as Audience Locations, Website Clicks, and Individual Mentions from each follower of the brand.
Analytics for Posts & (read: more importantly) Stories will provide insights from historical data, which will display trends of each of your account's performances with visual representations of changes.
Industry Benchmarks from over a hundred industries will help in comparing your metrics of account performances with your competition. Applied to parameters such as Follower Growth, Reach, and Engagement.
6. Kicksta
A Growth Manager and an Automation Tool for Instagram, Kicksta focuses on getting organic Followers through their targeting methods of likes or follows and getting your brand name maximum reach.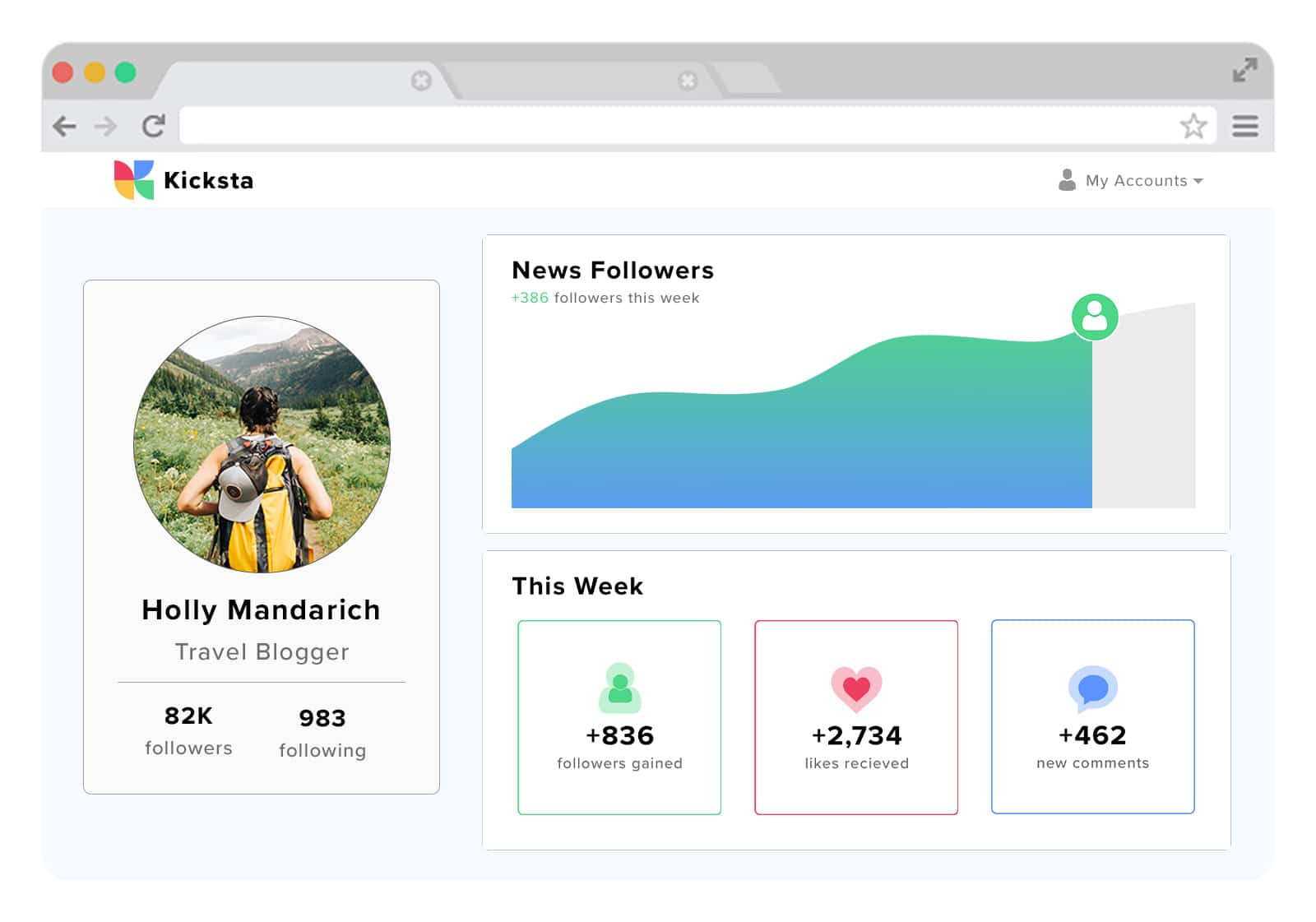 Source: socialmediaworldwide
Disclaimer: Use of Automation Tools that use bots to follow and interact with users might result in a ban on Instagram.
Artificial Intelligence imitates human behavior with sleep cycles, and activity pauses at set intervals. This disguises the tool from being identified as a Bot and not getting banned from the Platform.
Detailed Interaction Reports show how many specific likes were conducted on each member of the target audience plus how many followed the account back. AI will also automate the engagement based upon which of these profiles have proven to be the best performers in terms of interaction or those which have minimal response levels.
Partner Program automatically provides a list of suggested targets that are aligned best with your account characteristics. The Advanced Filtering System can be used to manually set specifications on variables such as gender or follower-following ratios.
7. Instavast
Pitching a 3-Component Plan for Success with the Curiosity, Automated Activity, and Growth Phases, Instavast is an innovative Growth Management Tool.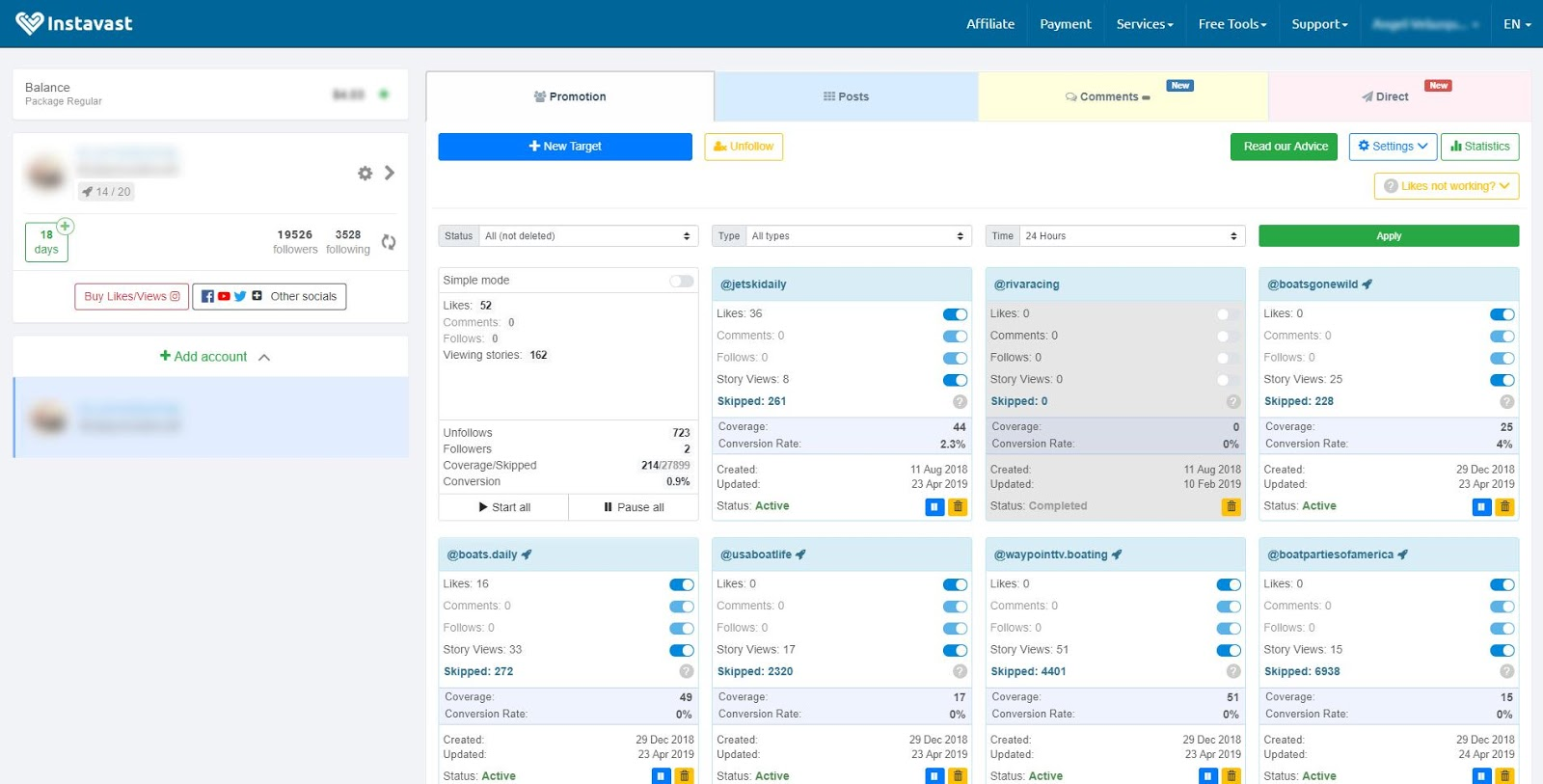 Source: goodtoseo.com
Disclaimer: Use of Automation Tools that use bots to follow and interact with users might result in a ban on Instagram.
Smart Targeting will target users based on whether they have displayed an active interest in the niche that you are operating in. Moreover, a combination of hashtags in uploaded content and other intelligent filters can also be applied to filter prime targets.
DM & Comment Automation allows users to automate not only the response of incoming DM's but also choose a script and target audience for sending DM's to and commenting on individual profiles.
Post Scheduler supports an unlimited number of planned posts with added functions such as 'First Commenting' and automatically adding watermarks to posts for ensuring credit is received whenever the content is reshared from your account.
8. Upleap
Boosting follower counts through their targeting methods supervised by real humans, Upleap seeks to eliminate the risks involved in using bots for Automation Tools.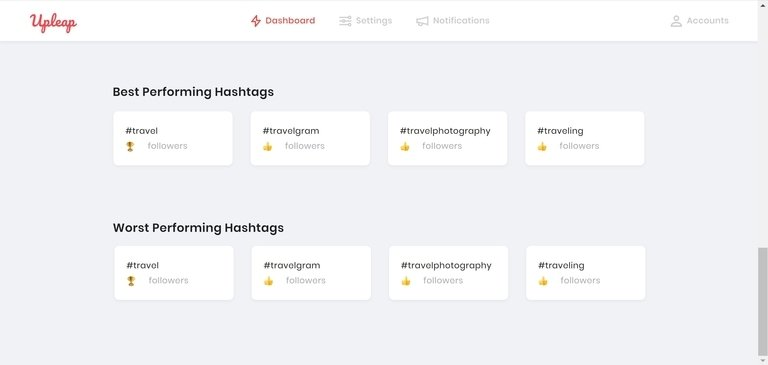 Source: bloggerwithacause.com
Dedicated Account Managers provide expert consultations and execute growth initiatives based on your targeted audience groups. With the involvement of an actual human expert, the risk of being flagged as an engagement bot is being eliminated.
Fake Follower Filtering eliminates the threat of wasted budgetary resources by filtering out bot accounts, using Upleap's Proprietary AI Software. Along with AI, Account Managers also manually filter and flag any suspicious followers for further review.
Analytics Reports provide exhibits on growth statistics, engagement attempts, and responses, plus showing how many of the people the Account Manager interacted with, converted into Sales.
9. Hype Auditor
The top analytical Platform focusing on Influencer Marketing, Hype Auditor owns the market with its discovery, analysis, and research tools for vetting influencers.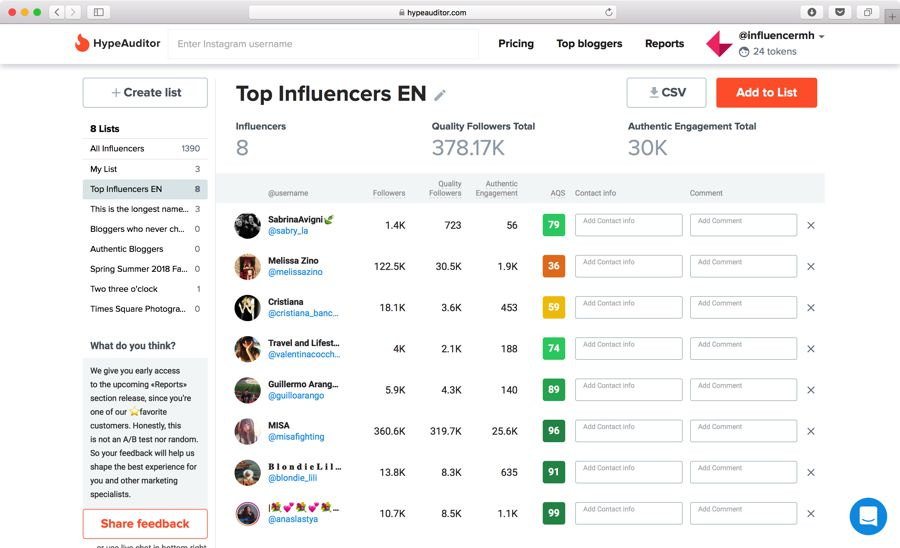 Source: Influencermarketinghub.com
Central Database, with over 10 Million Influencers, instantly provides insights into the credibility of Instagram audiences.
Tracking Hub boosts the performance of your Ad Campaigns by analyzing, comparing, and optimizing based upon the growth rates of your accounts versus competing influencer marketing campaigns via their AI-powered tools.
Over 35 In-Depth Metrics such as audience location, gender split, and reachability are available to analyze the audiences of Instagram Influencers. These statistics are automatically displayed in detailed Reports delivered at set intervals and trigger events.
Final Question: Which One is For You?
Choosing between all these fantastic Instagram Automation Tools may seem like a daunting task, but don't worry!
Figure out which functions are most important to your brand's growth and what additional value each is offering. Most of these have free trials, so even if multiple automation tools meet your criteria, you'll be able to choose the best fit.
Share in the comments below which of these tools (or any others) you like best and why?